Pont du Gard
The most famous aquaduct of the Roman days
---
The greatness of Roman civilisation and architecture
The size and the majesty of this aqueduct really shows the greatness of Roman civilisation and architecture.
Thanks to the local garrigue (limestone and bushes) and the emerald coloured water, this elegant aqueduct stands out against the landscape. Your Provence tour guide will show how the water was captured in the source close to Uzès and how it was lead by a stone canalisation, 32 miles long, to the colonia Nemausus (today he city of Nîmes) and how it was then distributed by a castellum divisorium through the different water pipelines towards the fountains, bathhouses etc…
She will also show you the visitor's centre with the models of the water pipelines, scaffoldings, hoisting machines and tools used for working out the trajectory and the declivity of the aqueduct.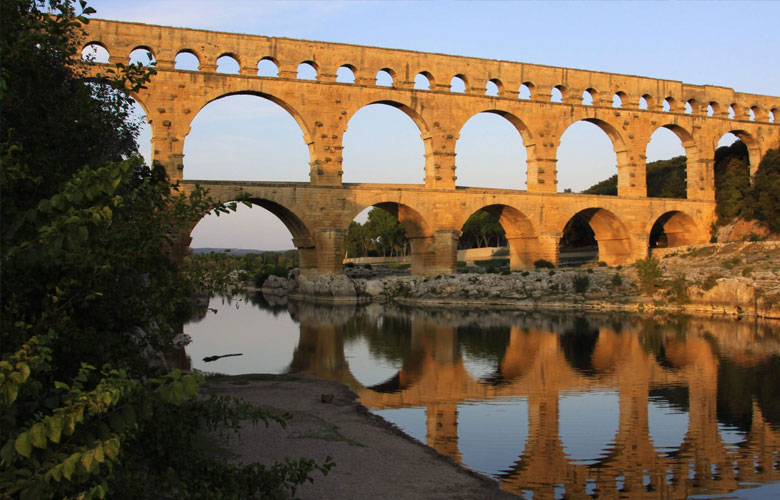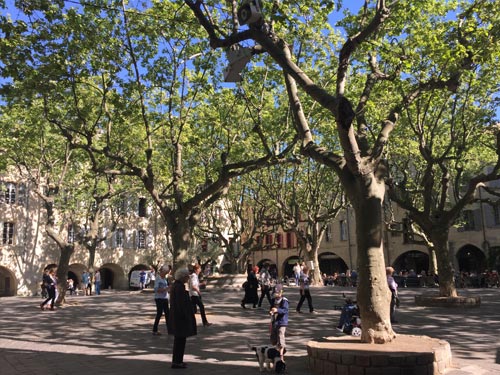 Uzès
The first duchy of France
---
Perched on a plateau over vines et garrigue
This former Roman fortified area, was protecting the surrounding Roman colonies and became the first duchy of France in the end of the 16th century. The protestant community with their spinning mills and draper manufactories increased the wealth of this little town. But after the decline of these activities at the end of the 19th century this little town really deteriorated. Luckily one of the greatest French ministers for Culture, André Malraux set up a real restoration program and the inner city has been totally restored ever since.
Your Provence tour guide, Annelous will also make you discover the Romanesque Tour fenestrelles, part of the old Saint-Théodorit cathedral, the amazing façade of the Baron de Castille mansion, the old bishop's tower, the beautiful town hall façade, and the place aux Herbes, this beautiful market square, a great place for idling and enjoying a drink in the shade of the plane trees.
Nîmes
Renowned for it's Roman vestiges
---
A cultural stroll among the relics of the past; Roman, medieval and also very contemporary settings.
This Celtic oppidum became a Roman settlement thanks to the governor Domitius who in 118 BC built the Roman road, the Via Domitia relying Italy to Spain. August founded a real Roman colony here with its drinking water coming over the Pont-du-Gard.
Like Uzès, Nîmes became a protestant town with silk and cotton manufactories, Denim is a very good example of the local heritage, it actually means from Nîmes. The contemporary architectures of Nîmes, built by Norman Forster, Jean Nouvel, Jean-Michel Willmotte are also worth admiring!
Your Provence tour guide will show you the beautiful Fountain gardens, once again with Roman vestiges but mainly designed in the 18th century. We will also discover the extraordinary Maison Carrée temple, the Saint-Castor cathedral and the magnificent arenas.