Le Luberon
A tour of Provence castles and ochre quarries
---
The Luberon, the typical landscapes of Provence
The Luberon is perhaps the best spot for admiring the hill top villages, an exceptional Cistercian abbey in all its beauty and glory but also the flamboyant ochre quarries. Ever since the 1970 many guests fell in love with this area and that is why it became one of the first Regional Parks here in Provence.
The Luberon is a calcareous chain that stretches from the east to the west over 75 km from Cavaillon to Forcalquier and the highest top is 1125 m (3300 feet). The Lourmarin valley separates the Petit Luberon of the Grand Luberon. From June to August the lavender fields are blooming and that is just divine.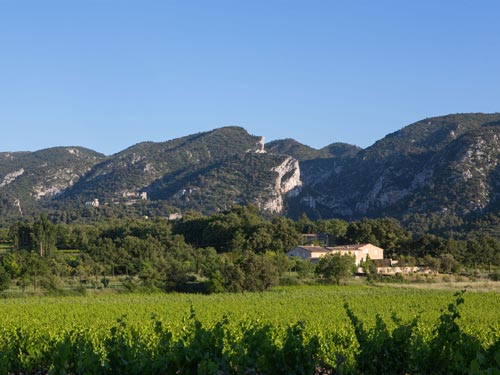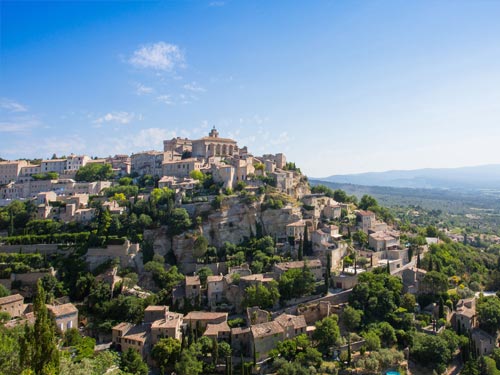 Gordes
One of the most famous Luberon villages
---
Perched on top of the hill, with a fantastic view on olive groves
Gordes is settled on a rocky outcrop and really overlooks the valley. The Celto-Ligurians (VIIIth century BC) already inhabited these rocks and built their ramparts. This tribe was called the Vordenses and that might have become Gordes throughout the centuries. After the Romans, the Agoult-Simiane family settled here and a village was born around their fortified castle.
With your Provence tour guide you will visit the little town: she will talk about the White Penitents, the local Comtadine costumes, the medieval castle that was enlarged in the Renaissance, the Saint-Firmin Church and of course she will also speak about the local crafts in older days: silk, leather, wool, olive oil and almonds.
The abbey of Sénanque
A place for peace and spirituality
---
A great example of Cistercian architecture in the middle of lavender fields
This wonderful Cistercian abbey was founded in the XIIth century in this small and narrow valley. These fields had been offered to the Cistercian community by the Agoult-Simiane family and the abbey was named after the little torrent names Sénancole.
Your Provence tour guide Annelous will show you the abbey chapel with its extreme Cistercian simplicity and highly pure proportions. There also is this very interesting bookshop specialised in theology, architecture but also in ... lavender!
An eventual cloister visit has to be booked long time on before hand!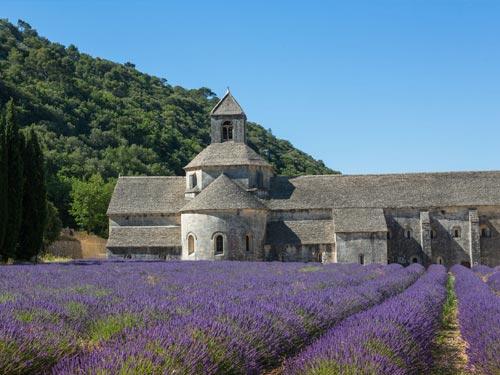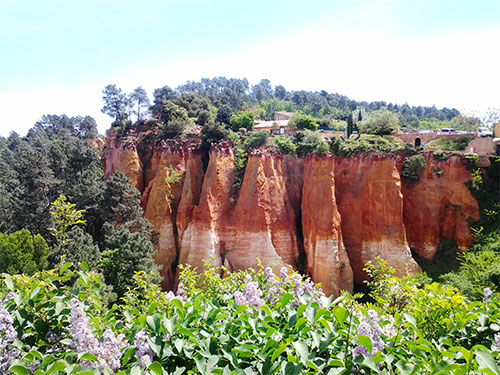 Roussillon
Entre Luberon et Monts de Vaucluse
---
Roussillon scintille sous une lumière tout ocrée
Ce charmant petit village perché multicolore est entouré de carrières et falaises d'ocre. Avec votre guide de tourisme vous pourrez y admirer les multiples tons d'ocre à l'état brut et d'ailleurs on peut se promener à pied dans une partie des anciennes carrières à ciel ouvert. La seule usine d'ocre fonctionnant encore aujourd'hui, Okhra, peut se visiter.